Bear Springs Manufacturing stands ready to offer each client quality customized service.
We are capable of individual to industrial size projects. No matter how big or small the order, you will receive the same personalized, superior service. In addition, we can create your prototypes and see them through to a completed full production run. In our facility we have the expertise and flexibility to design, modify, and refine your product to exacting specifications. From idea conception to product completion, we offer the best in manufacturing services.
Click on each service for details.
ENGINEERING AND DESIGN WORK
Bear Springs Manufacturing can take concepts from an idea to a complete design
Completed designs so they can be manufactured
Resourced materials
Reduced manufacturing costs
We utilize SolidWorks design program
We can also do product improvements, assembly fixtures, prototypes and test production runs
Using CAD/CAM systems, Bear Springs Manufacturing can meet all you Engineering and Design Needs. We can take your ideas and turn them into working solutions.
REPAIR AND REPLACEMENT PARTS
Bear Springs Manufacturing can improve over OEM (original equipment manufacturer) part with upgrades and better materials, thus creating extended part life
We can work from samples or drawings
We can do a complete disassemble and rebuild of equipment/components
PLASTIC INJECTION MOLDING
Bear Springs Manufacturing injection molding service includes design of parts for molding
We design and build molds
We'll test mold on our press
Low cost Aluminum molds for prototypes and low volume runs
Tool steel molds for large volume runs
PROTOTYPES
Bear Springs Manufacturing can work with your design or designs we have made.
Production tooling and fixtures can be produced at this level.
PRODUCTION
Bear Springs Manufacturing can work with large or small scale projects
Packaging services available
We can create custom fixtures/tooling
ASSEMBLY AND PACKAGING
Bear Springs Manufacturing offers hand assembly for low volume and mechanical assembly for large volume
Soldering and silver soldering
Custom product packaging
PICKUP AND DELIVERY
Bear Springs Manufacturing offers pickup and delivery service from the Harrisburg area to State College area.
Suppliers and Subcontractors
At Bear Springs Manufacturing we keep a large network of suppliers and fabrication as well as subcontractors. We have the ability to complete jobs that require more than our in-house services allow such as powder coating, heat treating, industrial chrome coating, and anodizing.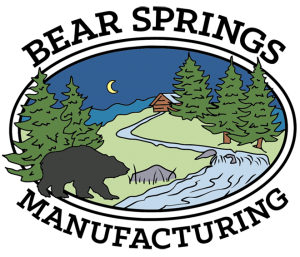 Bear Springs Manufacturing keeps complete records of all jobs kept, wherein all parts are assigned part numbers and can be reproduced later.